How to help the Free Software Foundation with a credit card
There is a new way to support Free Software Foundation: get a GNU credit card. At first I thought this would never happen, but  Stallman is a very surprising man: he doesn't use credit cards because they carry too much personal information to 'Big Brother'. Nevertheless, they're convenient to use and with this one 0.3% of any expense will go to FSF.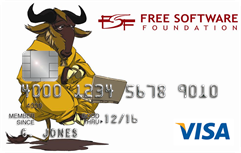 FSF is also running a contest for a new design. Details on FSF blog.
Introducing The Free Software Foundation Visa Platinum Card.